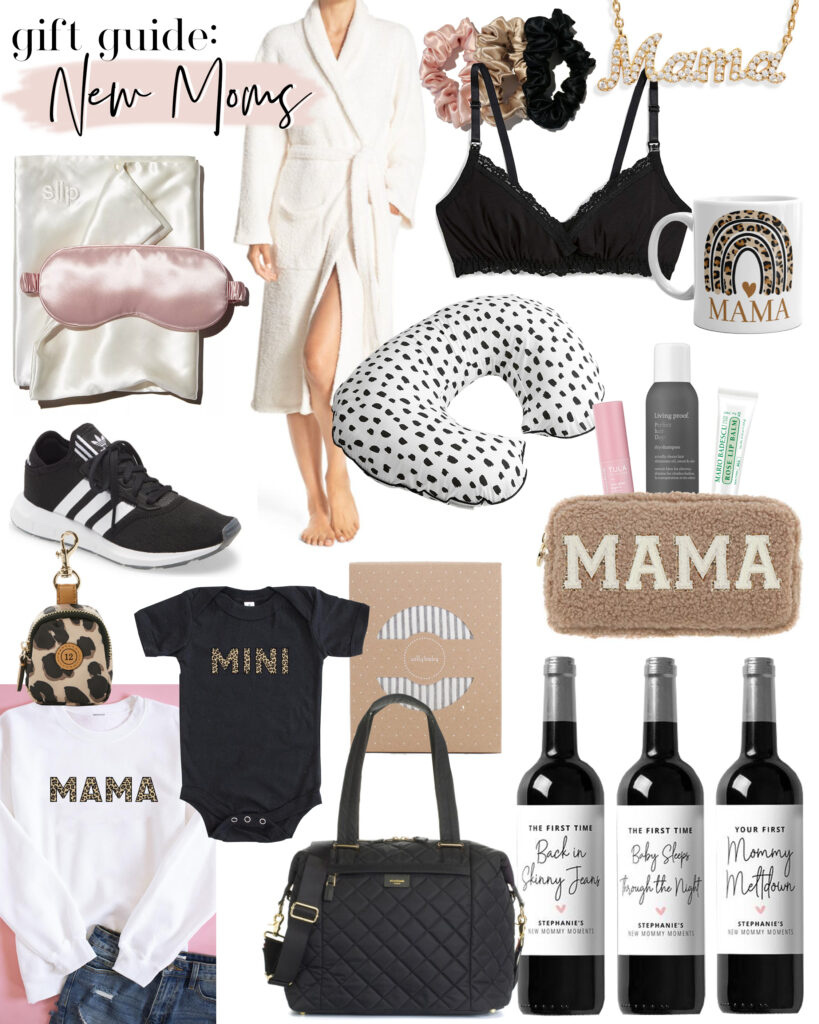 Barefoot Dreams robe // silk hair ties // "Mama" necklace // silk pillowcase & mask set // lace nursing bralette // "Mama" coffee mug // Adidas sneakers // Boppy nursing pillow // Tula eye balm // Living Proof dry shampoo // Mario Badescu lip balm // fuzzy cosmetic pouch // pacifier pouch // Solly baby wrap // "Mama" sweatshirt // "Mini" sweatshirt // quilted diaper bag // wine labels
A few of you asked me to put together a gift guide for new or expecting mothers, and I thought that was an awesome idea! It feels like so many women are pregnant right now or just gave birth (seriously, more than a DOZEN of my friends are either pregnant right now or gave birth this year). Before pregnancy, I had NO idea what to get an expecting mother! But now that I've made it to the home stretch of pregnancy, I think I have a pretty good idea. 🙂 Here are my top picks:
Barefoot Dreams
Anything Barefoot Dreams is a YES from me, including this Barefoot Dreams robe. It's seriously the softest material I've ever felt in my life and holds up extremely well in the washing machine, so it will last for years. A new mom will probably be at home a lot for the first couple of months, so it would be great to have a soft robe or blanket nearby at all times!
Silk
A new mom deserves to feel pampered… that's why I recommend these silk hair ties and this silk pillowcase & mask set. The silk hair ties won't hurt or damage your hair, and the silk pillowcase is gentle on your face and hair while you sleep. I'm not a mother just yet, but I also have a feeling that the eye mask will come in handy!
Cute sneakers
Some cute Adidas sneakers will get your new or expecting mama motivated to leave the house. Walks are great during pregnancy, and I personally can't WAIT to take my new baby for a stroll after she arrives!
Things to Help Her Look Fresh
I've heard from all my friends that you don't get much sleep for the first couple of months with a newborn. Enter: dry shampoo and Tula eye balm! This Living Proof dry shampoo is incredible if you don't have time to wash your hair… and the Tula eye balm works WONDERS for tired eyes. (Use code CMCOVING for a discount on the eye balm!)
If all else fails… wine
I tell you what, I cannot wait to have my first glass of wine once baby arrives… it has been a long nine months 😉 These wine labels are absolutely adorable and would make a fantastic gift for the new mom! They say things like "Diaper Blowout," "Back in Skinny Jeans" and "Date Night with Daddy," all wonderful excuses to pour a glass of wine.
Here are some more new mom favorites, below!
P.S. All of these *should* still arrive in time for Christmas if you order this week! And if you still need some ideas, you can check out all of my gift guides for the season here. I thought I was getting a head start this year, but somehow found myself staying up late last night to finish my online shopping! Oopsies! Now to just pray that it all comes in time. 🙂
xoxo